Event details
Do you really know what goes into bootstrapping your way to a $1 billion business?
If you are building a business, you know there are a lot of tough conversations, strategy and tactics, long nights, and hard decisions.
Whether you're leading an organization or supporting the growth of one, this is an event you are not going to want to miss!
Adam Hergenrother, CEO of a $1 billion business, and his right-hand, Hallie Warner, take you on a journey through creating and scaling a huge business. They share with candid and refreshing honesty the conversations that have led to the rapid growth of their organization while providing clear takeaways for your own organization.
You'll walk away from this event with a new perspective on the inner workings of a successful business and strategies to make sure the conversations happening in your office are the most productive and impactful ones.
WHAT PEOPLE ARE SAYING
"Rarely do we find teams/team leaders who run an organization quite the way you and your staff do and it has been life changing" – Sven Andersen
"Adam Hergenrother is a real estate industry leader and a brilliant big thinker who continuously raises the bar in his own life and the lives of those around him." – Torey Carrick
"Adam's raw honesty and transparency is refreshing. And his authenticity serves as a cornerstone for the messages he delivers… He shares his step-by-step approach on how to build a massive life, full of rich experiences and abundance. The day spent with Adam is a powerful journey, to say the least." – Brian Gubernick
MEET ADAM & HALLIE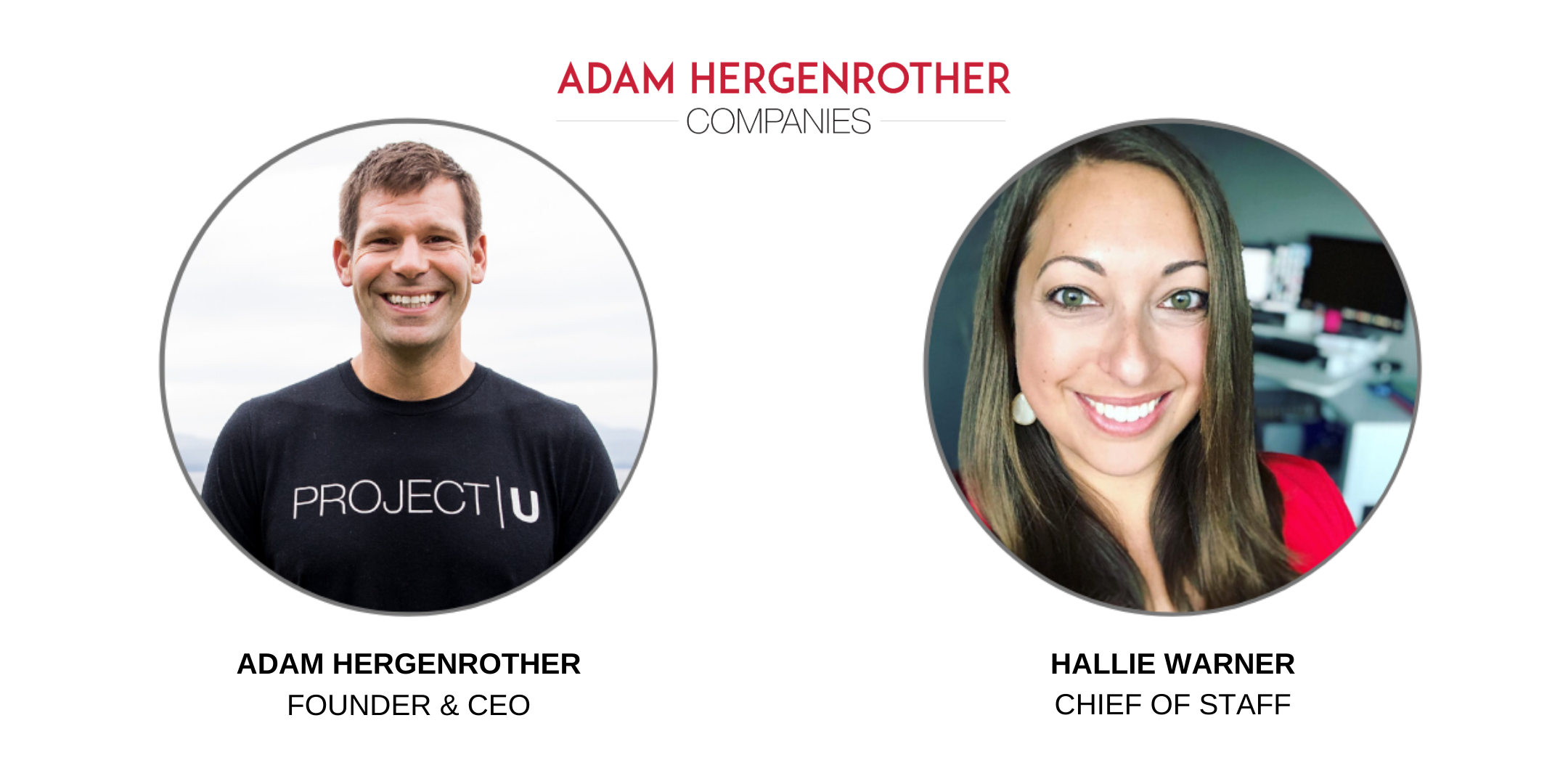 Adam has built Adam Hergenrother Companies into a $1 billion organization in ten years with Hallie by his side for nine of them. Together, they have been through it all in the business world – massive growth, failed companies, lawsuits, good press, bad press and everything in between. During this live, engaging event, you'll laugh, have aha's, and get a behind-the-scenes look what success looks like when you're building a business from the ground up.
AGENDA
8:15 AM – Registration & Networking
9:00 AM – Live Event Begins
12:00 PM – Questions and Aha's
DETAILS
WHERE: Dallas Convention Center – C155/156
WHEN: Saturday, February 15 from 9:00AM – 12:00PM CST
TICKETS NOW AVAILABLE!
Do you lead a rapidly growing organization? Are you a Founder or Force Multiplier? Are you fascinated by entrepreneurship stories and a dynamic business duo? Then get your ticket to Behind the Business and get ready for this rare opportunity to listen to the conversations that happen at the highest levels of leadership.
Click on "REGISTER" for your free ticket!
---
Event location